Invisalign is a method where you can achieve a radiant smile in a comfortable and unobtrusive way with an almost invisible brace. The bracket consists of transparent mouthpieces that are specially made for your treatment.
Correct your teeth inconspicuously

Removable bits

Radiant and straight teeth within six months to eighteen months
Find out what an Invisalign clear brace can do for your teeth. We are happy to inform you about the possibilities. Please contact us via the buttons below.
What is Invisalign?
The removable mouthguards from Invisalign are part of a technique to correct teeth discreetly and comfortably. The system consists of several "aligners" (bits). Based on a 3D dental scan, they are specially tailored for your teeth. It is important that the bits fit perfectly. You wear the bits day and night and ensure that your teeth are slowly set in motion towards the desired positions. During dinner, take out the Invisalign. This clear brace is available for teenagers and adults alike.
Compared to the traditional clasp brace, Invisalign makes it possible to undergo dental correction less conspicuously. In addition, many inconveniences of the traditional braces are saved for you, such as protruding wires, loose locks, irritations or monthly checks.
The advantages of the transparent bracket
Because the bracket is transparent and removable, it has many advantages:
Inconspicuous bracket

You can eat and drink everything after removing the bits

Easily keep your teeth and braces clean

Checks take place once a month

No unforeseen emergency appointments

No metal in the form of cubes and threads in your mouth

Painless tooth correction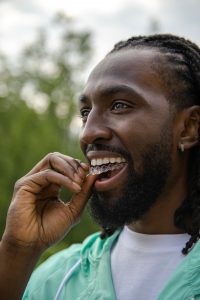 Proces Invisalign
<Filmpje Invisalign inladen>
Cost transparent braces
The cost of a clear brace depends on your teeth. A unique treatment plan is drawn up for everyone. The costs are determined on the basis of the treatment.
Contact your health care provider and check if you are eligible for reimbursement. Read more about the rates set by the Dutch Healthcare Authority.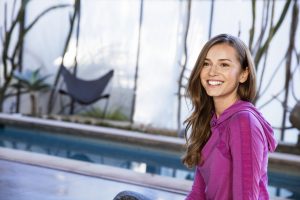 Can I undergo Invisalign treatment?
An Invisalign treatment is suitable for both adults and teenagers. We recommend an alternative treatment plan only in exceptional dental situations. Feel free to contact us and find out if you qualify for an Invisalign.
Invisalign treatment: path to a new smile
1.   
The first conversation
During the first meeting, we get to know each other and discuss the operation of a transparent brace. This way you are exactly aware of the treatment method and the costs and there is room to ask questions. We take mouth photos and together with the Invisalign team we look at whether a treatment with Invisalign is possible. This first consultation is free of charge for you. If you want to continue with Invisalign and want to know what the end result will look like, we will make a follow-up appointment for further investigation.
2.      Teethscan
At the follow-up appointment, we map your teeth with an overview photo and a 3D scan. Your teeth will be scanned in 3D with a mouth camera.
3.   
The teeth correction plan
We draw up a treatment plan based on the scan performed and the overview photo. We take your personal wishes and expectations into account. Using 3D imaging technology, you can see the treatment plan step by step from the initial position to the desired final position. If you are satisfied with the expected end result and have agreed to the treatment, the transparent braces bits will be custom made for your teeth to move your teeth step by step.
4.   
Start treatment process
We place the first set of bits over your teeth. These are easy to take in and out independently. You will receive several sets, so that you can change yourself in the meantime. Each aligner is worn for approximately two weeks. Every other month we will check your progress and you will receive new sets of mouthpieces from us.
Frequently asked questions about Invisalign
Do the transparent bits hurt?
The mouthguards will feel tight for the first few days of the treatment plan. This feeling will disappear as soon as your teeth start to move gently. This will take several days. You will receive new bits every month. For the first few days you will feel the discomfort again, because your teeth will be set in motion again.
Do I have to keep the braces in continuously?
We recommend wearing the brace for at least 22 hours a day. This means that you may only remove the braces when eating, drinking and brushing your teeth and then put them back in immediately after the teeth are rinsed or brushed again.
How often do I have to come for a check-up?
On average, you only need to come by once a month for a check-up. Each aligner is worn for approximately two weeks. How often you actually have to come by can differ per treatment plan. During a check, we will review your progress and you will receive new sets of bits from us.
How long does an Invisalign treatment plan last?
During the preparation of the treatment plan, we consider how long you should wear the braces. The average treatment plan lasts 3 to 12 months.
How do I clean the bracket?
The transparent bracket should be cleaned regularly. This can easily be done with some toothpaste and a toothbrush. We also recommend cleaning the braces after drinking sugary drinks.
Does the health insurance company reimburse Invisalign?
You are eligible for reimbursement for an Invisalign from many health insurers in the Netherlands. We recommend that you contact your current health care provider. This way you know immediately whether you are also eligible for reimbursement.
Clear bracket animation examples
Make an appointment at Tandartsenpraktijk Carmenlaan
Are you curious about what an inconspicuous transparent braces from Invisalign can do for your teeth? We are happy to inform you about the possibilities. Please contact us to make an initial appointment.